Homeopathic treatment of endometriosis
Lady 51 years old,  came to me for the first time  at July 2015. She is a tall, slim lady with long wavy greyish hair. Peculiar mix of innocence, shyness and inner beauty radiates from her face. Her main trouble is endometriosis and very long and profuse menstruation which exhausted her a lot. 8 years ago she went throw the operation of polypus on uterine wall. She also has allergy to dust and pollen causing her inflammation of the nasal cavities and vocal cords, itching and streaming eyes.
Her life story is full of take care about somebody. It starts in her childhood. Her parents are still together, but they fight each other all the time and she lived out those days in terrible stress. She has 5 years younger sister and she tried protected her from the stress at home. She felt helpless and her body reacted on it by recurrent tonsillitis and at age of 5 she had appendicitis. At the age of 20 she had meningitis.
After university she got married and has 4 children. When her 4th was born, she was exhausted, her husband had exacting and time-consuming job and she had to manage everything by her own…and she got Lyme disease and mononucleosis. After that she got pregnant again, but doctor threaten her that child couldn´t be ok, so she agreed with abortion…child wasn´t disabled…and she can never forgive herself.
She takes her mistakes and failure too hard. "I want to please everybody to redress the wrongs done by others" as she said.
Nowadays she takes care about her husband, children, parents (who live 200km apart from her, but need take care), and their family business.
She loves nature, mountains, wood, classic music. The wood is for her temple and she can´t live without it. She has to walk there. She also used to run for long distance, the longer the better, it charging her. She likes her job, gardening, walking in nature, painting, cooking, vegetable, meat, especially row meat. She likes smelling odors. "I have pacifier which take me away from bad mood – I dispersed it by gardening"…as she said.
She used to have dreams – that she lost child in ruin, or somebody kidnap her sister and she is desperate.
Analysis:  in this case was obvious (even to me) that this lady need some remedy from animal kingdom. No snake – for sure – there is no snake trickiness, probably no bird (she looked at me, not throw the window to the sky), no insect…. We need some animal which loves running, is shy, eat meat, need freedom….
Repertorisation: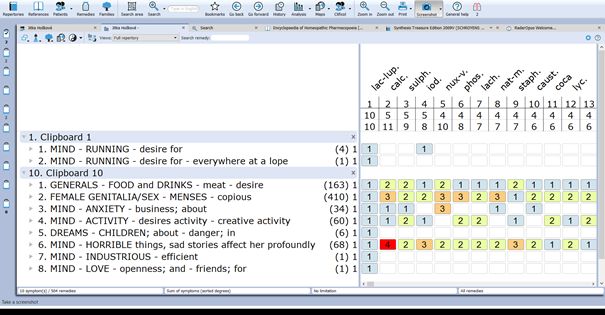 Prescription: Lac lupinum 200
Follow up 1 month after remedy: she had menstruation without loosing energy, no pain during it. Her allergy is better, her eyes burnt just a little. She had good mood, energy enough.
Prescription: wait
Follow up 2 month after remedy: she had energy enough, no pain, good mood even if her patents need more care.
Prescription: wait
Follow up 3 month after remedy: she repeated remedy once when she got flu, and within 3 days she was completely ok.
The next follow ups are almost the same: she just some time repeated remedy, feels good, no pain, menses without difficulties, and Lac-lup works for her like pick-me-up miracle.
More than year after the first prescription of Lac-lup 200 we changed potency to 1M and now it is more than 4 years and she just sometimes repeats remedy and is ok.
In such gentle and elegant way we can treat our patient thanks homeopathy. Miracle of minimum dose in practice.